Credentials
Professional Server Certification Corp (PSCC)
PSCC is an industry leader in responsible serving®, seller/server certifications and interactive training for food service professionals, bartenders, waiters, waitresses, and alcohol servers. The PSCC support staff consists of food service industry experts as well as technical support personnel that are here to assist you 12 hours a day!


Better Business Bureau Member

Professional Server Certification Corp. is an accredited member of the Better Business Bureau's Online Reliability Program and is authorized to display the BBBOnline logo. For verification call (515) 243-8137 or
Click Here
to verify an online reliability report.
Approvals for Responsible Serving of Food & Alcohol
Click your state for specific information on your state's requirements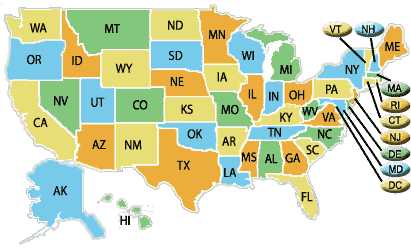 California Responsible Serving® of Alcohol Approvals
California
The current Rserving® - Responsible Serving® of Alcohol course can be used to obtain your Responsible Beverage Server (RBS) training certificate.

However, the state of CA is working on new requirements for next year. But the requirements are not completed yet. Therefore, no courses can meet the upcoming Responsible Beverage Service Training Program Act (RBSTPA) standards, which are scheduled for 2021.

Once the new training requirements are completed, all bartenders, servers and managers will have to take the new training (when it is approved). Therefore, for students that take our current training, we will provide "no charge" training for an approved course in 2021. This assumes we will get approved. If we cannot get approved, we would not be able to provide the "no charge" approved course.

Please note that we will work to get approved, but we cannot control the approval process, or the course approval date. In addition, there may be other circumstances beyond our control.

Details:
Sign up and take Rserving's training now and receive your certificate (which will be valid through July 2021). Then, as soon as our new course has been approved by the California Department of Alcoholic Beverage Control (again assuming that we get approved) to meet the requirements of the Responsible Beverage Service Training Program Act (RBSTPA), students can complete our updated training course at no additional charge to receive your RBST certification (valid for an additional 3 years). The new training will comply with the new Responsible Beverage Service Training Program Act (RBSTPA) which requires all servers and managers to complete the new training effective July 1, 2021.